Picasso Abroad, Palace of the Golden Gate
27 Jan 2022
Lp Art
Exibitions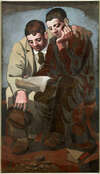 The National Museum of the History of Immigration, Palais de la Porte Dorée, is hosting an exhibition entitled "Picasso the Foreigner" from November 4 to February 13, 2022. It demonstrates Picasso's situation as a foreigner in France, the collection came from various archives and the artist's works.
LP Art transported and unpacked 205 pieces (paintings, prints, pastels, drawings, books, documents, ceramics, catalogs, newspapers, sculptures, lithographs, engravings) from twenty-eight lenders from seven countries, in particular the Musée National Picasso-Paris, the Picasso Museum in Barcelona, the Picasso Museum in Antibes, the Center Pompidou-MNAM, MAMVP, the Masurel-LaM collection as well as other foreign museums and private collections.
LP Art also manufactured around twenty crates and accompanied their conveyors, then finally, let us recognize the special handling necessarily be done to crane the boxes within the museum.