"Philolaos" at the Museum of Fine Arts in Valence
28 Feb 2020
Lp Art
Exibitions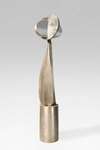 The exhibition "Philolaos. In the painter's studio "opened on December 1st and will end on March 8th.
For the first time in a French museum, more than one hundred and fifty works, sculptures, reliefs, design objects, drawings and models relate his journey and allow to rediscover Philolaos, sculptor who explored metal - iron, lead, copper - up to to the discovery of stainless steel which became its material of choice.
LP Art has packed around fifty works of art and sculptures (some of which are heavy), then transported and installed the exhibition in the courtyard and inside the Fine Arts Museum of Valencia.